The bathroom project was one of those, as Munsell calls it, "scope creep" projects. Basically, the more we did the more work we had to complete. First it smelled like smoke from the previous owner, so we painted it. Then it still didn't smell clean, and we discovered the vanity and cabinets smelled. There was debating what to do about the vanity. And finally just deciding to get rid of it.
It was unfortunate because it was nice looking vanity, but I could not get rid of the smell! Also, as a side note, I called Habitat for Humanity to see if they wanted to pick up the vanity and they refused it when they discovered it smelled like smoke stating it would be impossible to get rid of the smell. Which was oddly reassuring.
After deciding the previous cabinets were basically useless and beyond painting (more on that here) we ripped them out and decided to built our own double vanity. I loved the idea of vessel sinks so we went with some from Wayfair I had seen on another blog I follow that I loved AND they were cheap. At least for sinks.  Her whole bathroom is amazing actually…can I just pick it up and place it in mine?
Anyways, here's the sink we went with:
And also the faucets: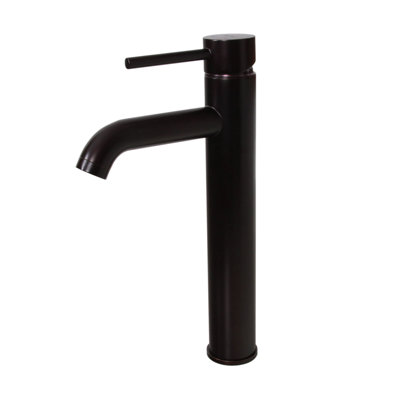 We did follow the Ana White plans for the bathroom vanity, but we did change some things.
First of all, the turned legs she used were expensive! It would have cost more for the legs than the rest of the vanity! So, we went with 4x4s. It is a more rustic look, but with the vessel sink and faucet I think it balances out. I also liked the idea of slats at the bottom instead of a solid sheet of plywood. And lastly, we made it a standard 60 inch long double vanity.
I'm still debating on what finish to use on the wood. Dark stain, gray-washed, white-washed or paint are all options so any ideas are much appreciated!
We're planning on adding drawers to either end of the vanity and open storage in the middle with pull out wire baskets from Ikea. That way we can use every square inch of space!
New lights are on the way too, I'm leaning towards a dark barn light like this:
Yes, its technically an outdoor barn light. But it looks cute.
And because every post needs a least something cute and finished, here's a quick picture of the towel hooks I at least have been able to finish.
Have a great day everyone!
Marissa